Fee and access
Fee
| | |
| --- | --- |
| Short 30 min. |   3,000yen |
| Standard 60 min. |   6,000yen |
| Beauty face 60 min. |   7,000yen |
No initial consultation fee
No tax
Access
2-1-14 Ojihonmachi, Kita-ku, Tokyo
Ryo Acupuncture Clinic is located in front of Oji Daini Elementary School.
It will be a detour, but there is an elevator when heading from Oji Station to the ward office, so if you use the elevator, you can come to my clinic on a flat road.
Attention!!
"Inarizaka" next to Inari Shrine is a very steep slope. Google displays it as the shortest route from Oji Station, but please avoid this slope.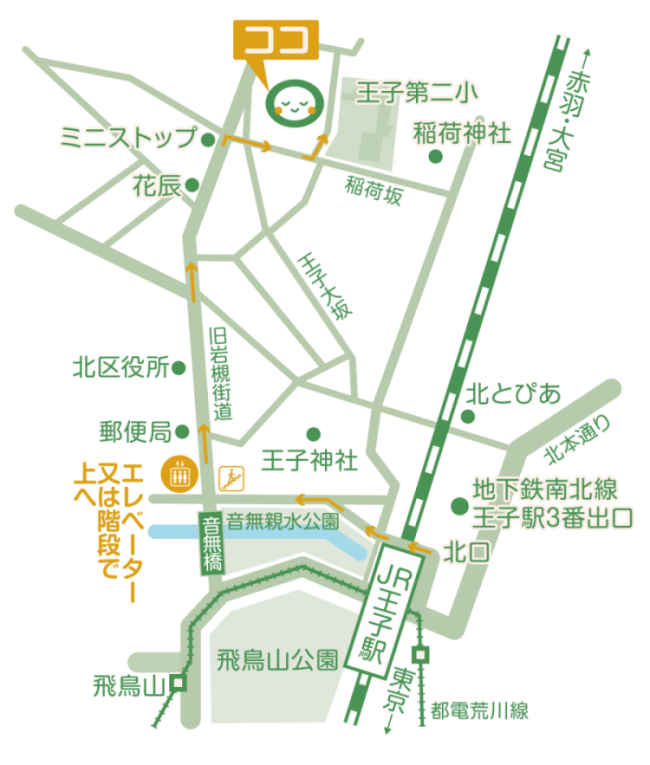 If you take a bus
For Akabane Station West Exit[赤50]Bus stop in front of Mizuho Bank
Get off at Honcho-Dori, the third bus stop from Oji Station.
Bus timetable from Oji Station to Honcyo-Dori
Bus timetable from Honcyo-Dori to Oji Station
If you come by car
My clinic does not have parking. Please use nearby coin parking.
The coin park next to Ministop, which is the closest to my clinic, seems expensive.
If you come by
bicycle or motorcycle
Please park on the clinic grounds.